5th World Ebru Day will take place in
Lucerna Gallery
www.lucernagallery.com
Štěpánská 61, 116 02, Prague 1, Czech Republic
Since October 2015 Lucerna Gallery has increased its portfolio of activities in Lucerna Palace by providing a forum for contemporary visual art in all its forms. Apart from exhibitions, the gallery offers a wide range of other activities, such as book presentations, discussions or concert projects. The interior of the venue was designed by Martin Rajniš and David Kubík

Lucerna Palace
www.lucerna.cz
Lucerna Palace is one of the most important cultural hubs for concerts and motion pictures in Europe.
The buildings around the upper part of Wenceslas Square are interconnected via a system of passages, the most famous of them being the Lucerna (Lantern) Passage. The large passage connects Vodičkova and Štěpánská streets and houses numerous stores and restaurants, a movie theatre, music bar, and a prestigious concert hall — the Lucerna Grand Hall. Lucerna was Prague's first multipurpose complex from the beginning of the 20th century — it is one of the best-known of Prague's cultural "palaces".
It was built between 1907 and 1921 after a project by Vácslav Havel (the grandfather of the former President Václav Havel) and Stanislav Bechyně. The first part of the arcade was officially opened in 1907.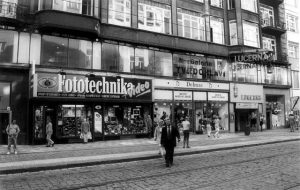 Vácslav Havel drew on both European and non-European art for inspiration and this was reflected in the fact that the arcade was formerly known as the "bazaar". The first restaurant facility in Lucerna was YOKOHOMA, a Japanese-style tearoom owned by the traveller Josef Hloucha, which opened in 1909 and was situated on the site of the present pub Hospoda v Lucerně.

LUCERNA CINEMA opened its doors in 1909 and was the first modern permanent cinema in Bohemia. In 1929, Universal Film's "Show Boat" was screened here. The first Czech talkie screened here was "Obrácení Ferdyše Pištory" ('The Turning of Ferdyš Pištora') in 1931. The cinema is still operating today, offering the public a wide range of film genres. The monumental marble staircase situated by the cinema, in the courtyard of the future arcade, features a reinforced-concrete dome of lead netting filled with stained glass and was installed in 1913. The final part of the project (the tract leading into Štěpánská Street) was completed in 1921. This section houses the Great Hall (designed by Prof. Bechyně), still the venue for many social events, concerts, and balls. Behind Lucerna Cinema in the Rokoko Arcade was opened a cabaret in 1915. After the war it became— and still is — the theatre ROKOKO.
The dominant feature of the arcade is a statue of an upside-down horse by the sculptor David Černý, which was installed in 1999. It is 470 cm high and 290 cm long, and is made of polystyrene and epoxide resin. (www.davidcerny.cz)
The arcade offers several stylish cafes, restaurants, shops, a music club and a concert hall which help to form the ambiance of this unique "palace".